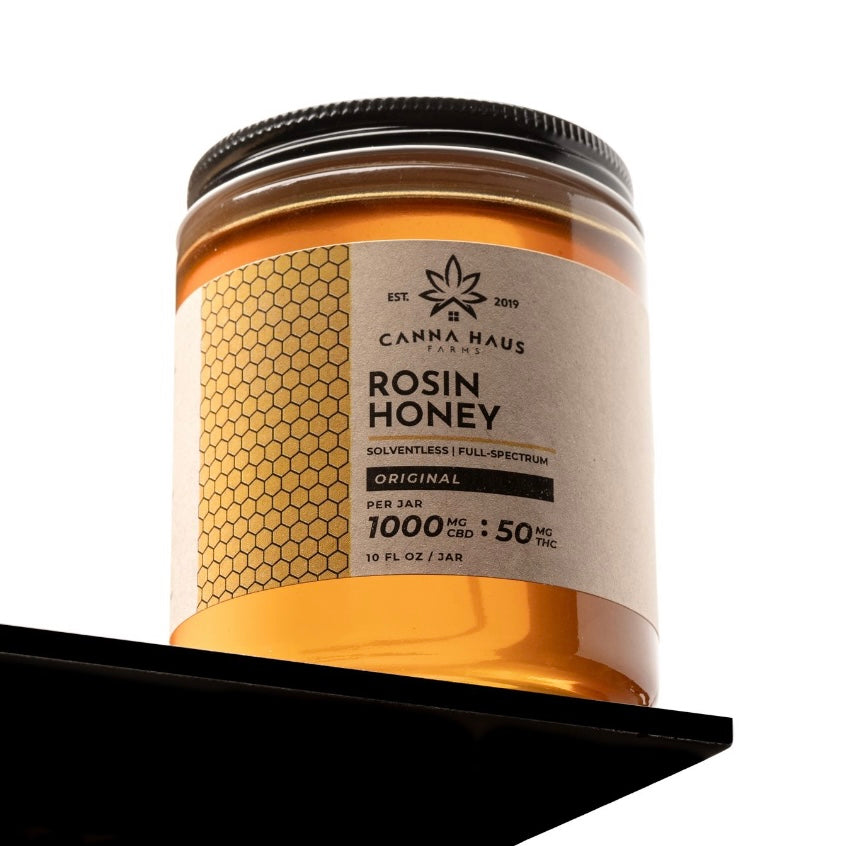 CBD Rosin Honey | Full-Spectrum | Small-Batch
---
Regular price
$20.00
Sale price
$15.00
Save $5.00
/
In stock, ready to ship

Inventory on the way
Experience the healing power of nature in its purest form with full-spectrum CBD Honey. Made by bees on our very own farm, this honey is infused with solventless CBD rosin to provide a truly natural and delicious experience you can feel. Each jar of infused honey contains CBD and low amounts of THC. It has all the benefits of honey such as supporting digestion, fighting allergies, calming nerves, restoring energy levels and boosting immunity. It also contains various phytocannabinoids, terpenes, and flavonoids from the hemp plant which create a experience that allows for optimal absorption and utilization within your body. The combination of the honey's sweetness & creamy texture combined with the earthy taste from the infusion creates an irresistible treat you can feel great about enjoying! 
Servings Per Package : 250mg = 15 servings, 500mg = 30 servings, 1000mg = 60 servings
Serving Size : 1tsp (0.16oz)
Storage : Store in a cool dark dry place.
Cannabidiol (CBD) Rosin, Pure Raw Honey, Organic MCT Oil
Our CBD honey can be used in various ways to enjoy its benefits. Here are some suggested uses :
Sublingual Administration: Take a teaspoon or your desired dosage of CBD honey and place it under your tongue. Hold it there for about 60 seconds before swallowing. This allows for faster absorption into the bloodstream through the sublingual glands.
Sweetener for Beverages: Stir a spoonful of CBD honey into your tea, coffee, or any warm beverage of your choice. It adds a touch of sweetness while infusing your drink with the potential benefits of CBD.
Spread on Food: Use CBD honey as a delicious and nutritious topping for toast, pancakes, waffles, yogurt, or oatmeal. It can enhance the flavor of your favorite foods while providing the potential health benefits of CBD.
DIY Edibles: Incorporate CBD honey into your homemade recipes for baked goods, energy balls, smoothies, or salad dressings. Be mindful of the heat, as excessive heat may degrade the CBD content.
Calming Bedtime Ritual: Take a spoonful of CBD honey before bed to potentially promote relaxation and a restful night's sleep. Enjoy its soothing properties as part of your nightly routine.
On-the-Go Snack: Carry a small jar of CBD honey with you for a convenient and discreet way to enjoy the benefits of CBD while on the move. Simply consume it directly from the jar or squeeze it onto a snack of your choice.